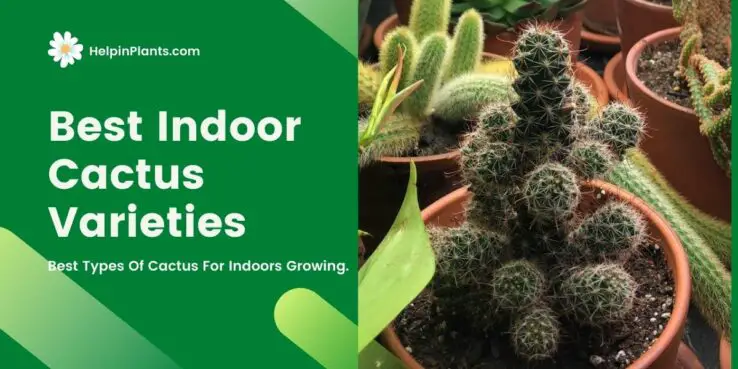 Best Indoor Cactus Varieties
Cacti are commonly described as desert plants but can thrive in a home environment too. These species thrive in dry climates and well-drained areas. We have separated the cacti species according to indoors and outdoors, to help you determine which cacti plants you should grow indoors and why some are the best indoor cacti.
Cacti plants- also known by the Cactaceae family - are highly unique and popular indoor plants. This family is known for the wide range of species, each varies distinctive in appearance and needs minimal water to survive droughts.
Best types of cactus for indoors growing
Cacti can be planted in any part of the home, from your bedroom to office and living room. Depending on their characteristics, they have different needs for indoor growing. Here are some of the most popular cacti that will thrive in a home environment:
Angel Wings Cactus — Opuntia Albispina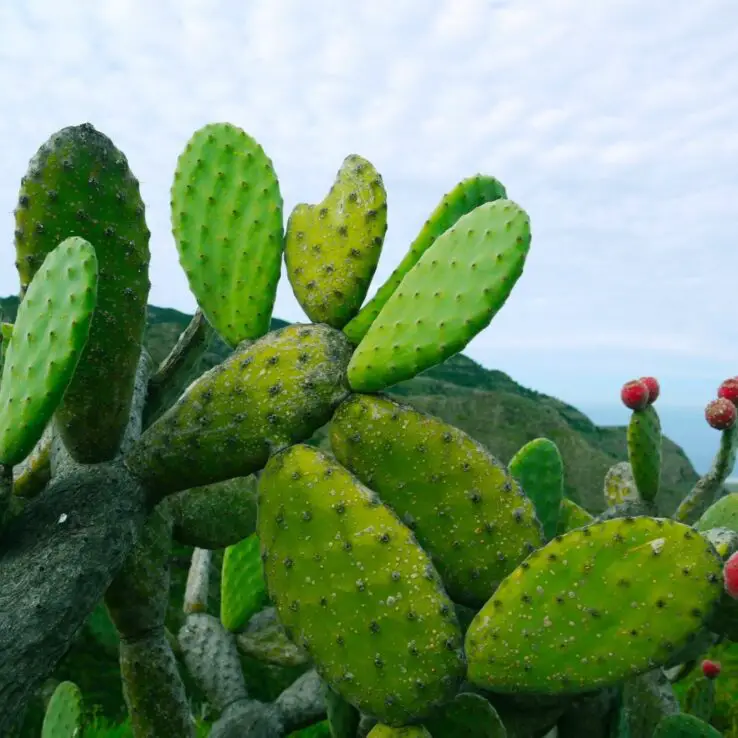 The angel wings cactus species is a desert denizen. It is adapted to low amounts of water and extreme heat. It has a striking appearance and its small pads are covered with glochids – a fancy term for white prickles found on its surface.
Contrary to many cacti, it lacks spines that can become replaced with hairs on the pad's surface. Opuntia Albispina is a spring bloomer producing creamy yellow flowers producing globular edible fruits which are purple in color. Give the plant lots of light, well-draining cacti mix, and less frequent watering and you'll have one happy angelwing-shaped cactus for indoors.
Hedgehog Cactus — Echinocereus Nicholii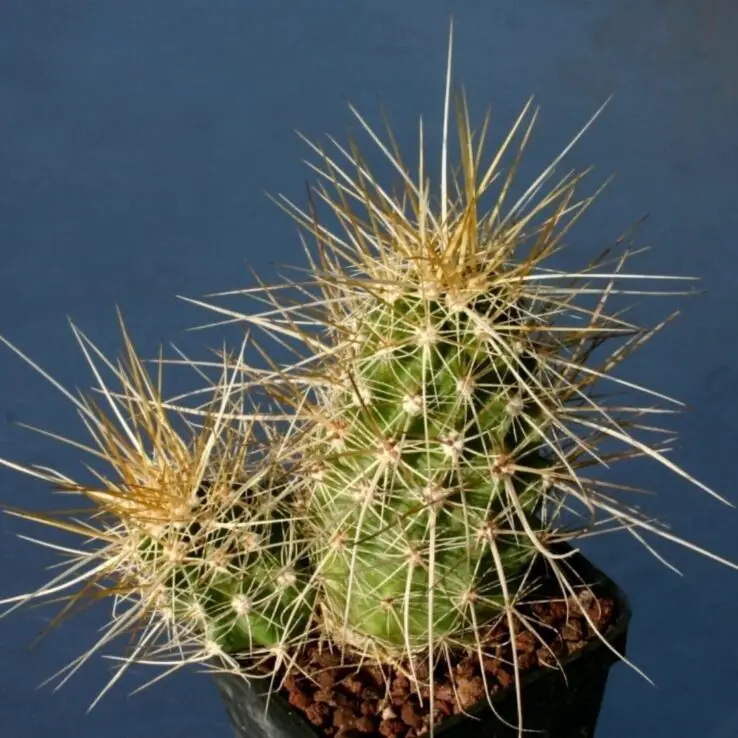 Echinocactus species are native to South Western North America. They can be identified by their cylindrical green or white bodies with yellow spine tips. Many are covered in sharp spines, often purple in color. They are grown for their striking appearance and need to be positioned where they won't be knocked over easily.
Bunny Ears Cactus — Opuntia Microdasys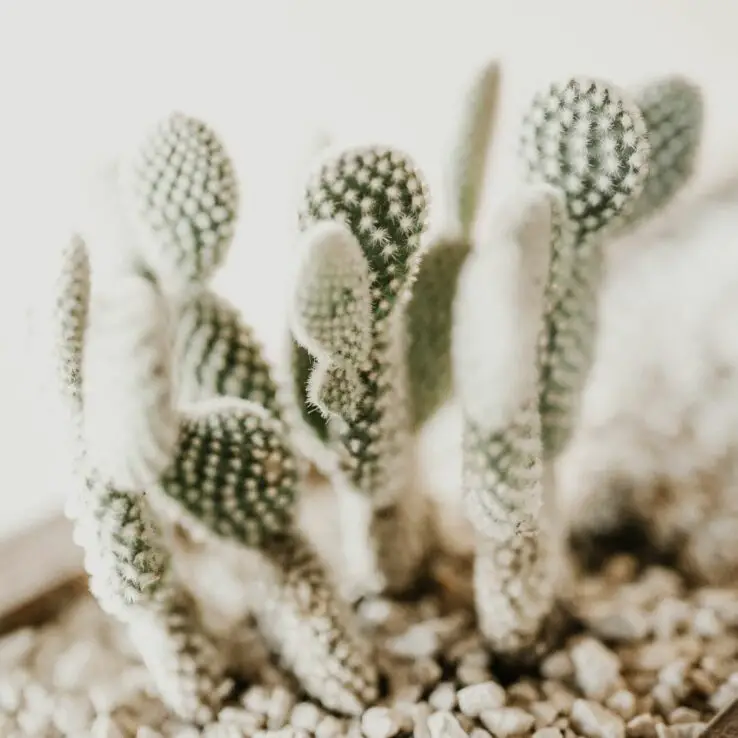 The bunny ear cactus is native to the Mexican state and is closely related to the angel wings cactus. The cactus usually grows two pads that appear like bunny ears hence its nickname.
In summer they produce yellow flowers followed by purple fruits if they are given plenty of sunshine throughout the entire season. They are encrusted with tiny brown, whitish hairs which are easily touchable to the touch.
Old Lady Cactus — Mammilaria Hahniana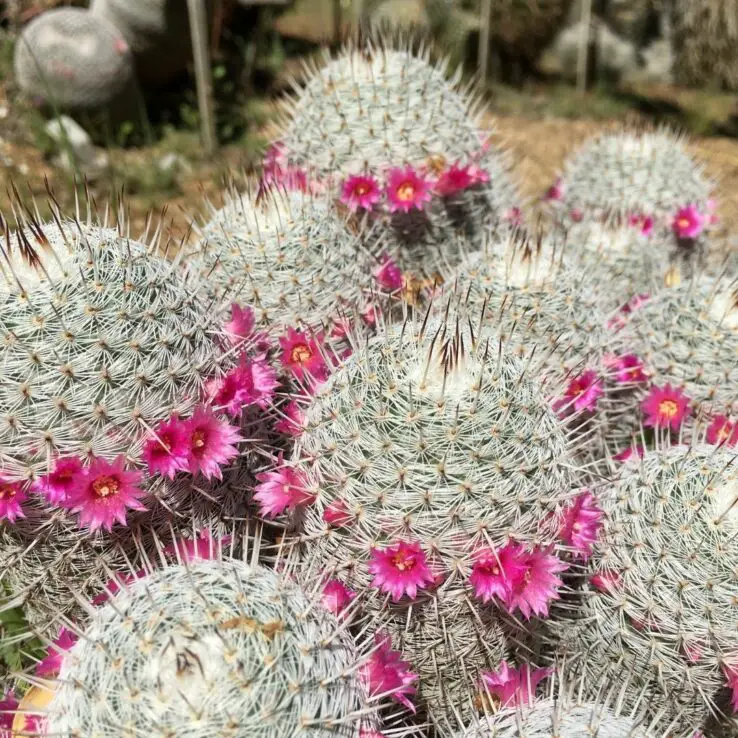 Native in Guanajuato state Mexico Mammilaria hahniana grows tall reaching 10 inches tall. Old Lady cactus blooms in spring and summer producing attractive purple flowers and possibly growing in a ring at the top.
Make a well-drained Cactus mix to withstand moisture during cultivation because they hate living on damp soil. Water only once a week in hot months once a month in winter. The white hairs and spine in this part of the plant will also shield it from intense sunshine.
Bishop's cap — Astrophytum Myriostigma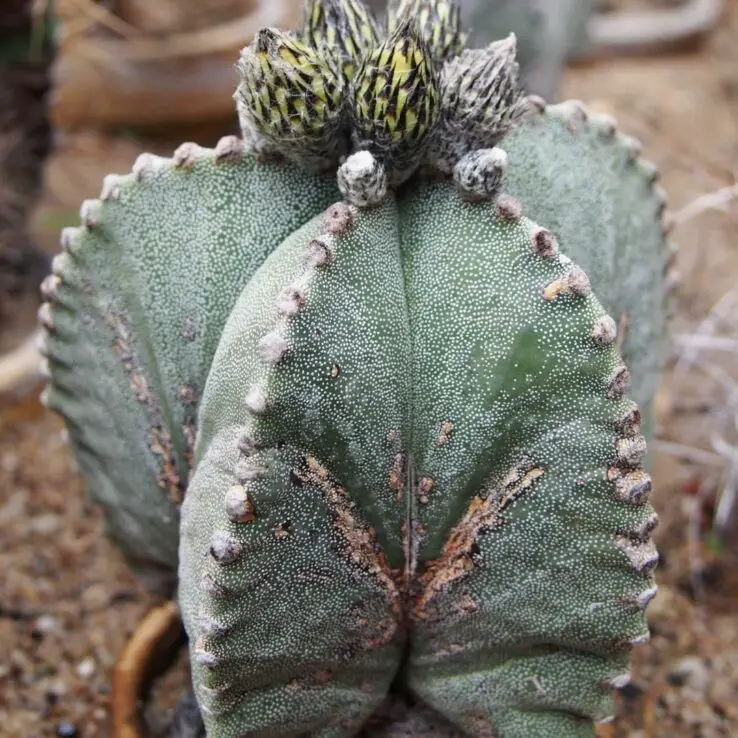 The Bishop's Cape Cacti (Astrophytum Myriostigma) is natively found near The Chihuahuan Desert in Mexico. Its appearance resembles a globe whose segments are split in the center. The hardy leaf is normally green when young.
As it matures its leaves get a greyish coating of fine scales that keep it protected from the sun. It will help you have the blue colors and blossoms you need in the spring. They grow in shade but need sunshine for about three hours of the day. It works well in a window sill of south or western perspective. Make sure they get the good sun to get the flowers.
Old Man Cactus — Cephalocereus Senatus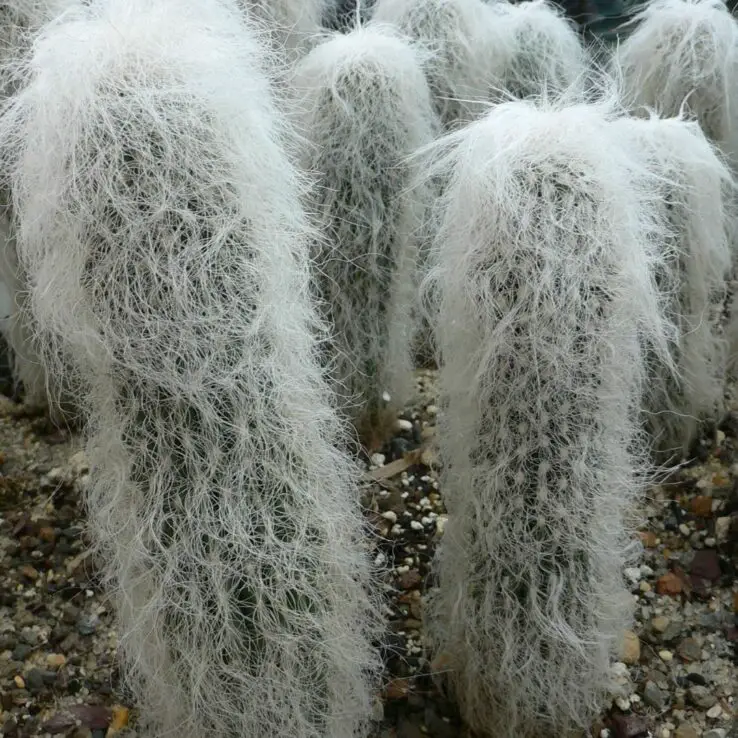 Native to eastern Mexico the old man cactus (Cephalocereus Senatus) grows a similar kind of fuzzy white hair to the old lady cactus. The population of these cacti is declining in the wild but thanks to their popularity as houseplants and commercial cultivation the wild populations are less vulnerable.
The thin hair spines on cephalocereus senatus are fairly long on the cactus giving the appearance of an upper portion of white hair. When these Cacti are blooming, they produce thick pink flowers and occasionally make fruit.
Star Cactus — Astrophytum Asteria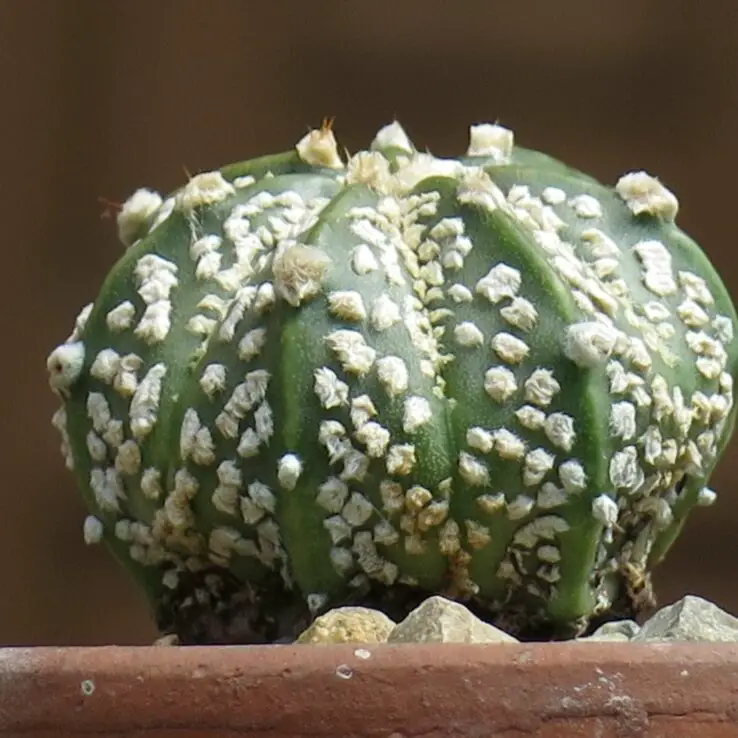 Astrophytum Asteria is generally green in color and has decorative white dotted spots. If conditions are right, the Star Cactus bloom during spring producing attractive yellow flowers with orange hues in the center.
These cacti are sun lovers and prefer bright light so get them the southern or west-facing window for strong growth. Use a well-drained grainy mixture of cacti and water twice a month.
Barrel Cactus — Ferocactus Species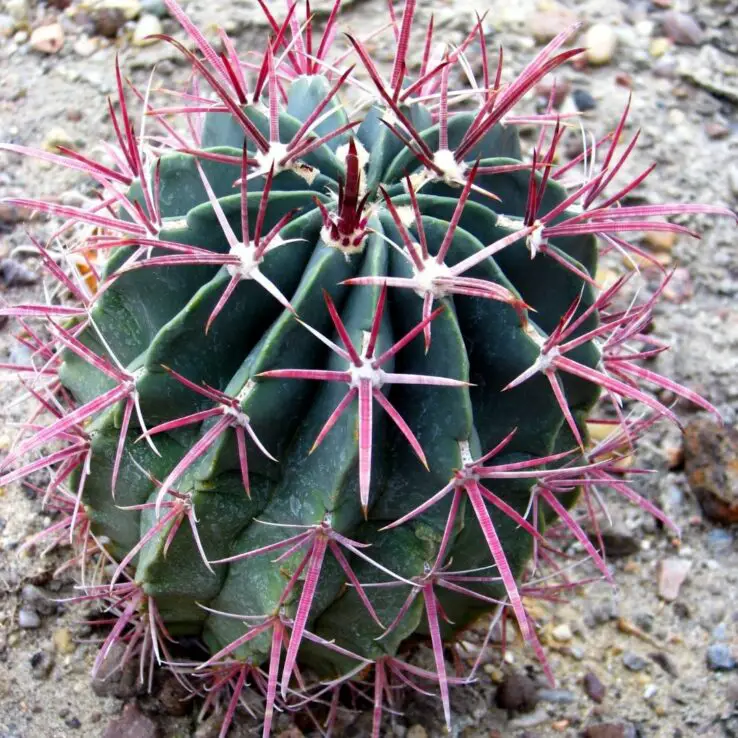 Ferocactus is a genus of large barrel-shaped cacti. Most of them have large spines and small flowers when blooming. It includes about 30 species. These cacti can live for decades. These are true sun lovers who prefer full sun a few hours a day.
Barrel Cactus (Ferocactus Species) is narrow and has long spines. Its spikes help protect the fatty edible pulp within. Water sparingly until the ground gets completely dry. Use commercial cacti mixture to prevent the spread of damp soil problems like root decomposing and fungi attacks. Use cut-resistant gloves to protect your hands as their spines are sharp.
Rat Tail Cactus — Aporocactus Flagelliformis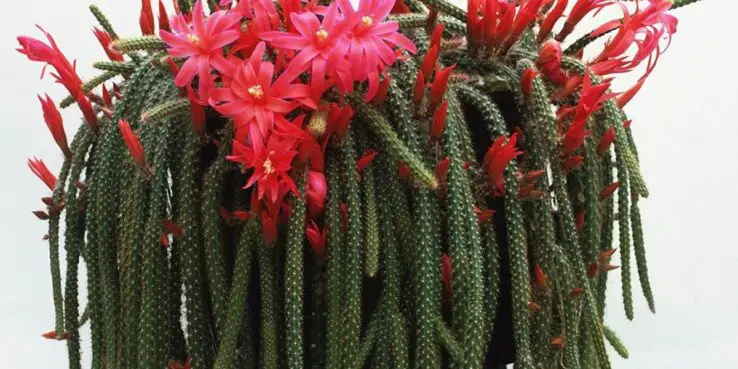 The rat tail cactus thrives in bright sunlight and if everything went well the plant could bloom in spring bringing forth spectacular pink flowers. A commercial well-draining cacti mix is suggested for root rot prevention. Rattail cactus lands in Mexico.
It is one of the cactus plants that work great in hanging baskets. Choose a good-sized hanging basket for this fast-growing cactus as the thick stems can trail for three feet.
Moon Cactus — Gymnocalycium Mihanovichii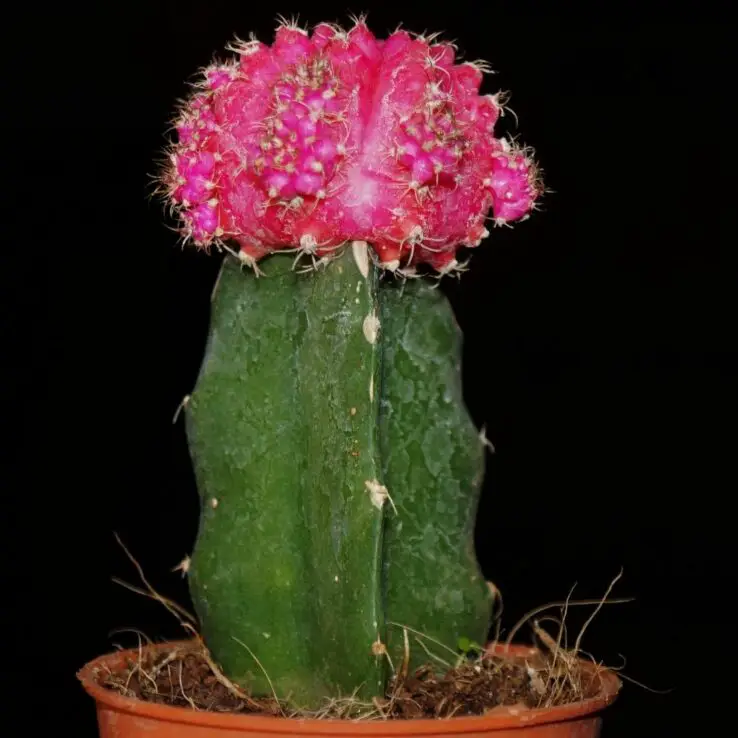 The Moon Cactus (Gymnocalycium Mihanovichii) is quite interesting and a unique cactus. The moon cactus species are from South America. The cactus produces some of the most popular mutant cacti which produce absolutely no chlorophyll.
Their stems are shown to have unusual colors that are red, pink yellow, and orange in different shades. Small pink flowers grow from late spring to early summer. Their lovely colors make this one the best cactus indoors. Place your moon cactus in a window where it gets indirect sunlight, as too much direct sunlight can damage it.
Barbed Sea Urchin Cactus — Echinopsis Ancistrophora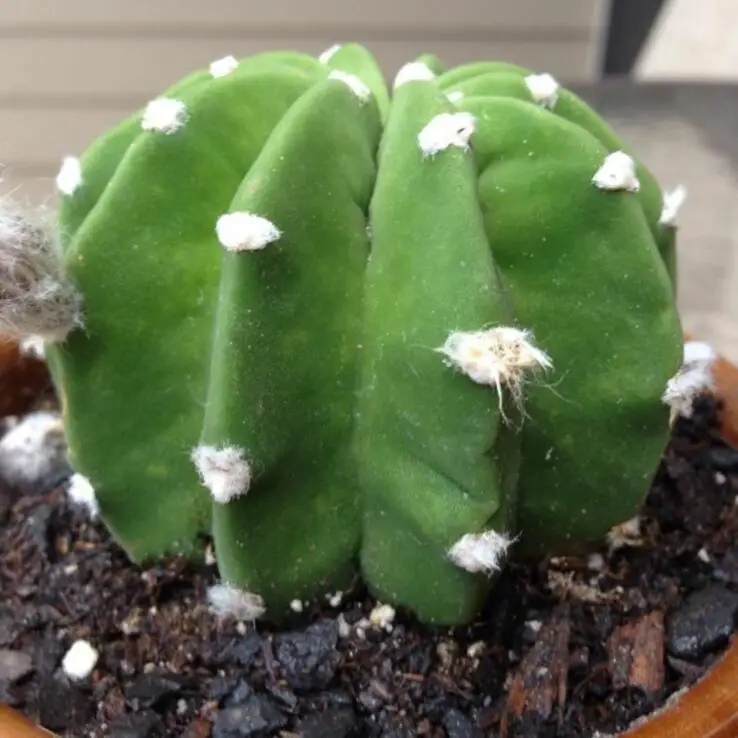 The Barbed Sea Urchin Cactus (Echinopsis Ancistrophora) is native to Argentina and Bolivia. It grows as small flat or spherical balls and produces large clumps when left to grow and propagating across time.
They have thin, blue-green radial spines which resemble spiders. When in bloom, it produces in abundance very huge flowers in white, yellow, or red color. It is one of the best cactus to keep indoors.
Golden Rat Tail — Cleistocactus Winteri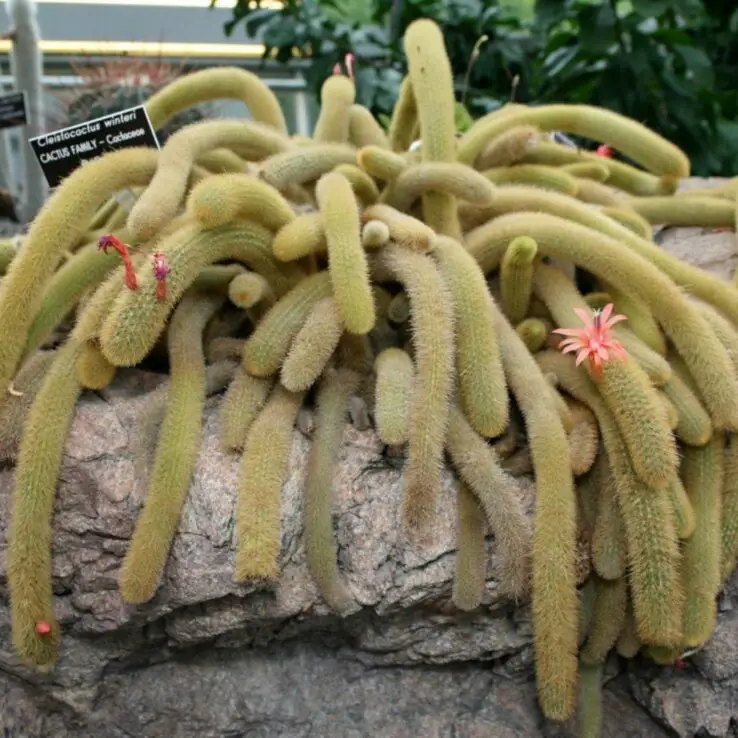 The Golden Rat Tail Cactus ( Cleistocactus Winteri ) is named for its thick furry, lustrous stems, growing in dense mounds. These long thin stems can grow up to 40 inches long with only around 1 inch of depth.
They are covered with yellow-pink fur that gives the cactus its furry Golden appearance. The golden rat tail will flower freely at the end of April and Summer producing orange or rose petals.
Golden Barrel Cactus — Echinocactus Grusonii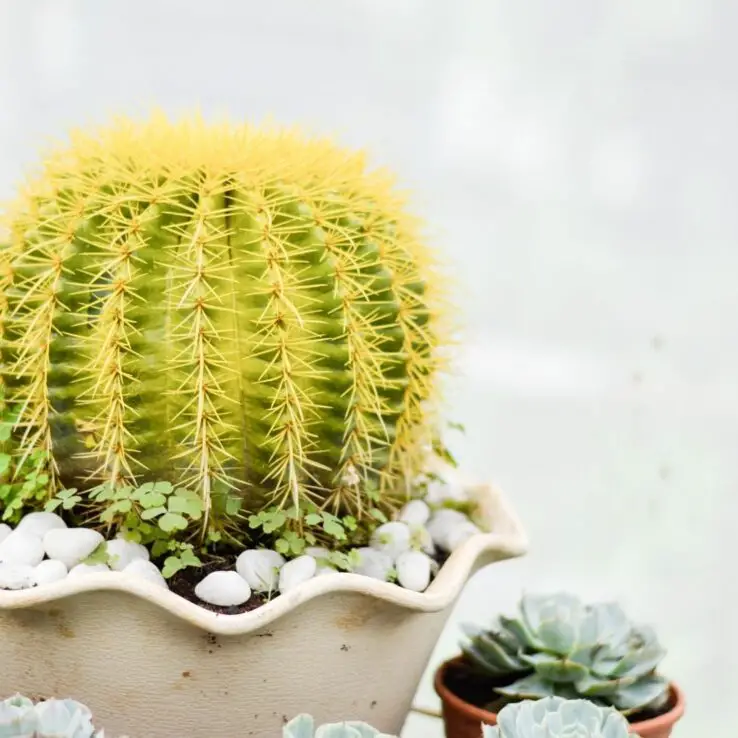 The Golden Barrel Cactus ( Echinocactus Grusonii, Golden Ball, or Mother-in-Law's Cushion ) originates from Mexican forests. These are large spherical globes that can reach over 1 meter (3.3 ft) in height after growing for many years in the wild.
This cactus produces many long straight yellow spines that give it some golden light. They love the sun and need only very small quantities of water to survive. You may see some small yellow flowers in summer around the crown in a mature plant. But it is very rare, as it may take up to 20 years or so to get to this point.
Barbary Fig — Opuntia ficus-indica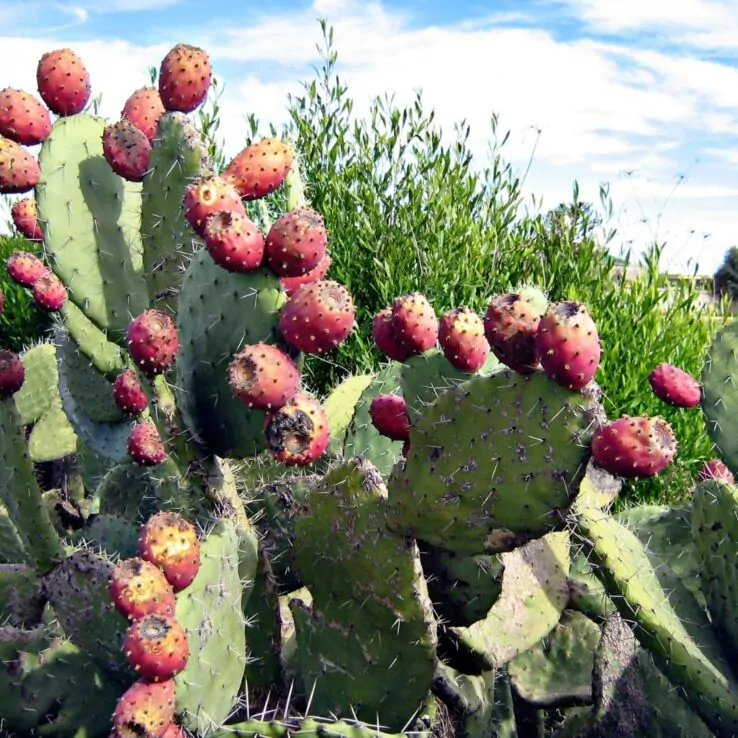 The Barbary fig ( Opuntia ficus indica, Indian fig opuntia, Fig opuntia, or Prickly pear ) is a variety of prickly pear cactus native to Mexico. Green pads grow on top of bristling spines. Yellow and orange flowers blossom at the tip of these stems and the flower produces edible red fruits later.
It can reach 15 feet tall 10 feet wide if its area is adequate. This can be kept with any houseplant in a small yet comfortable size. It has long been a domesticated crop plant grown in agricultural economies throughout arid and semiarid parts of the world.
Feather cactus — Mammillaria Plumosa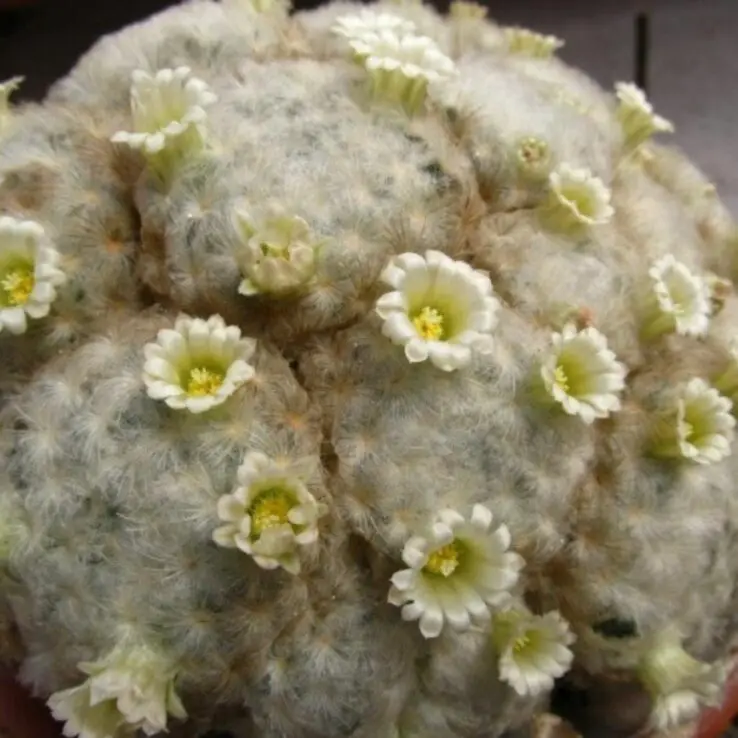 Feather cactus ( Mammillaria Plumosa ) are perfect for indoor containers and will grow up to several inches tall. The featherlike plumes feel soft and fluffy but under their surfaces, the shafts protect sharp spikes.
Its origin and habitat is Coahuila and Nuevo León. Mexico. Mammillaria Plumosa grows on limestone cliffs. This species is in continuous decline due to its illegal trade and ongoing collection. But its number of locations where it can grow probably exceeds ten, and the population is not yet likely to be severely fragmented.
Blue Myrtle Cactus — Myrtillocactus
Blue Myrtle Cactus ( Myrtillocactus, Blue Candle Cactus, Blue Flame Cactus ) is native to Mexico and Guatemala. It grows strongly around its many bluish-grey flowers. It is a distinctive-looking shrub cactus that is easy to grow and one of the best cactus for beginners.
If it is mature enough it should yield white flowers followed by dark purple in Spring. In wild it can grow up to 14 feet tall. It can also be controlled inside a garden or on the soil.
Golden Torch — Echinopsis Spachiana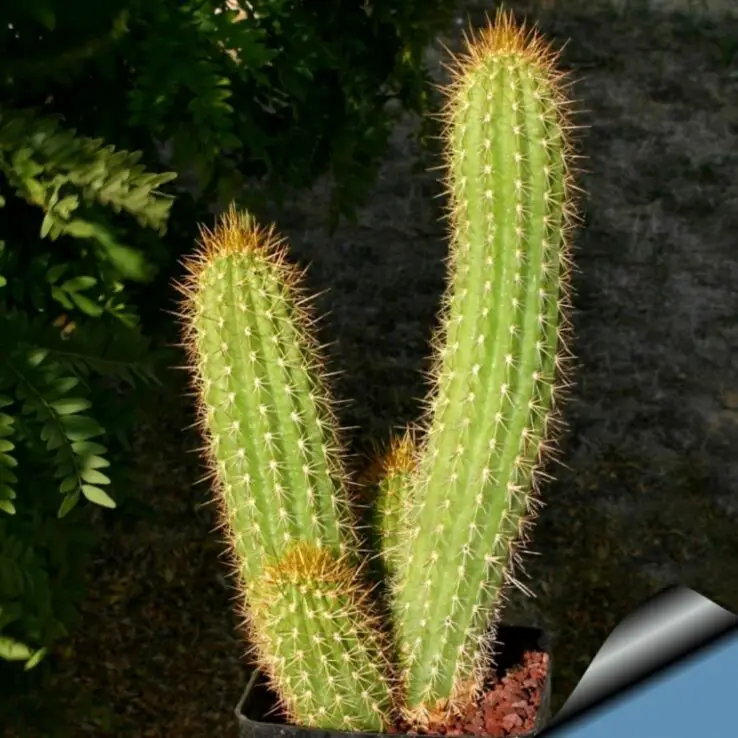 The Golden Torch ( Echinopsis Spachiana ) or the torch cactus or golden column is native to South American. It forms a columnar shape and can reach heights up to seven feet with branches only measuring 2 and 3 mm in diameter. These tall, thin cacti may produce large white flowers that bloom only at night.
Fishbone cactus — Epiphyllum Anguliger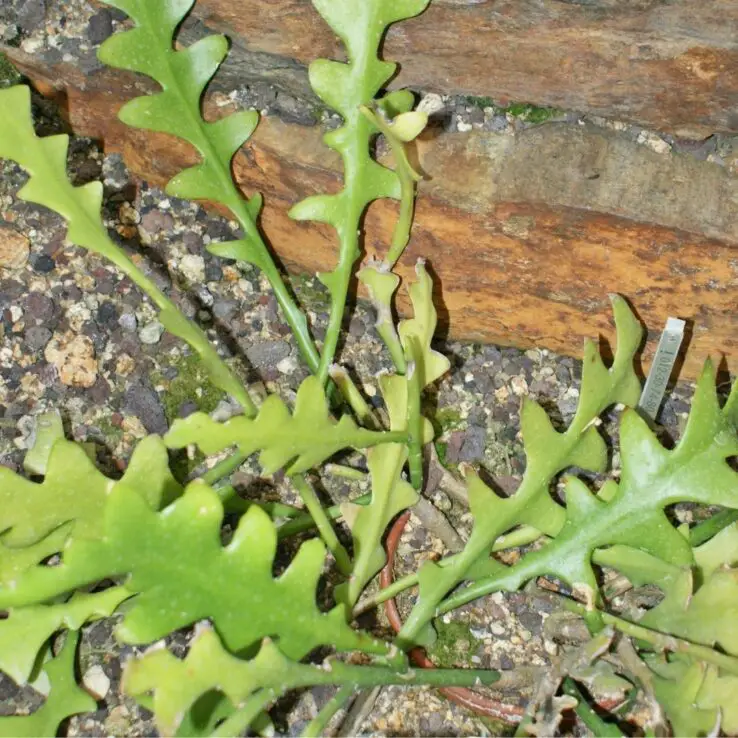 The Fishbone cactus ( Epiphyllum Anguliger ) looks like something from a story. It is actually occasionally spelled as the zick-zagg cactus because of its zany appearance. As a houseplant, it is quite cool looking in your cacti collection and is easy to care for.
African Milk Tree — Euphorbia Trigona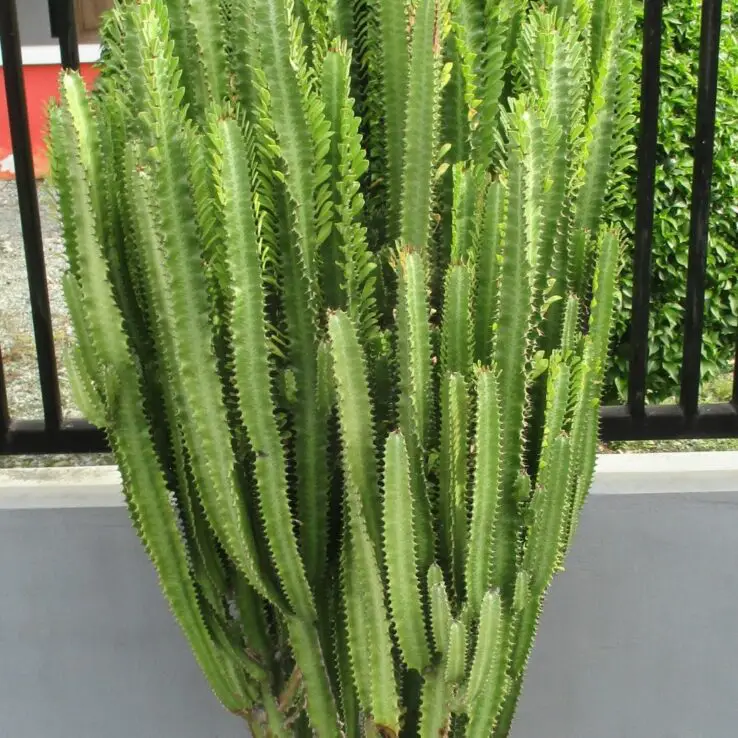 This is a striking succulent that requires little attention. Some of its varieties offer unique green and magenta hues like Rubra. Although it can release a skin-irritating milky substance, it is associated with friendship or positive thoughts.
Organ pipe cactus — Stenocereus Thurberi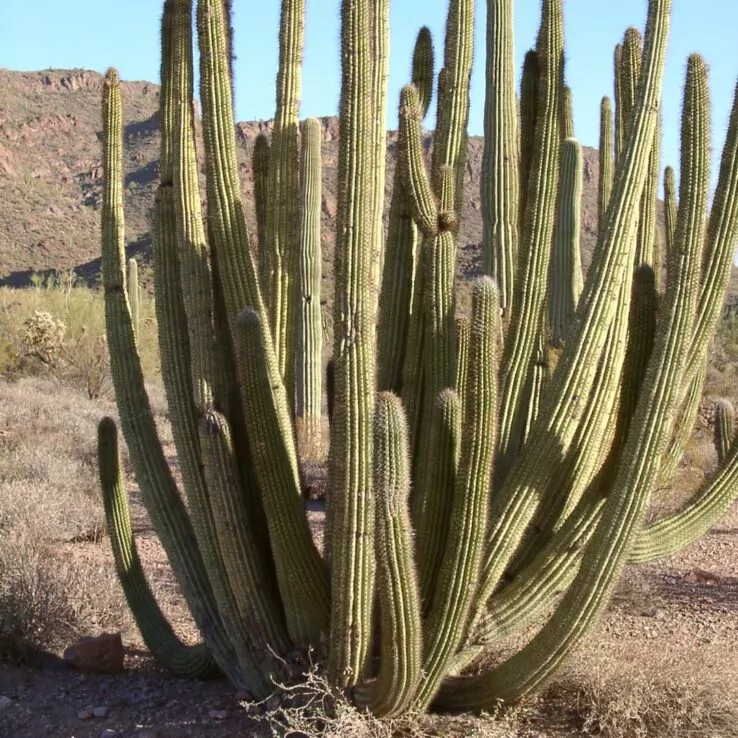 Stenocereus thurberi ( Organ pipe cactus ) contains multiple stems that grow rooted off a small trunk ascending vertically. The stems are usually 15cm (6 inches) thick. The average height is 4.9m (16 ft). Older plants are funnel-flowered that open when nightfall arrives and close in the morning.
Give it organic, well-drained soil. Because they can be found in very hot sunny areas ensure that this bird is fully exposed to natural sunlight. In early spring you should water regularly but look to identify signs of overwatering. The organ pipe is reputed to have a life expectancy of 15 years. Despite being large people can say the fruit taste much better to the eye than watermelon.
Peanut cactus — Echinopsis Chamaecereus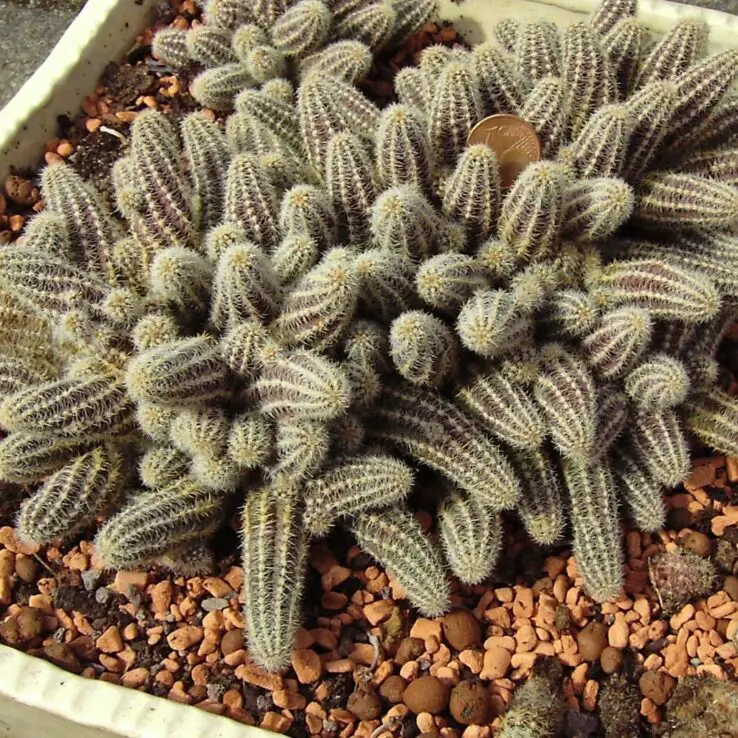 Echinopsis chamaecereus ( Peanut cactus ) is native to Argentina. It can reach up to 15 centimeters (6 inches) tall. It has long stems about 1 cm (0.3 inches) wide and Orange flowers of 4 cm-6.3 cm in diameter. This particular cactus is common in gardens of hot areas and has a high growth rate.
Peanut cacti can become very fragile and rot if overwatered. They must be drained quickly when watering. You can dip a stick into the soil, if there have been residues of the wet ground for top some inches then do not water. A very good sunscreen should also be given to them as they like cold temperatures.
Totem pole cactus — Pachycereus Schottii f. Monstrosus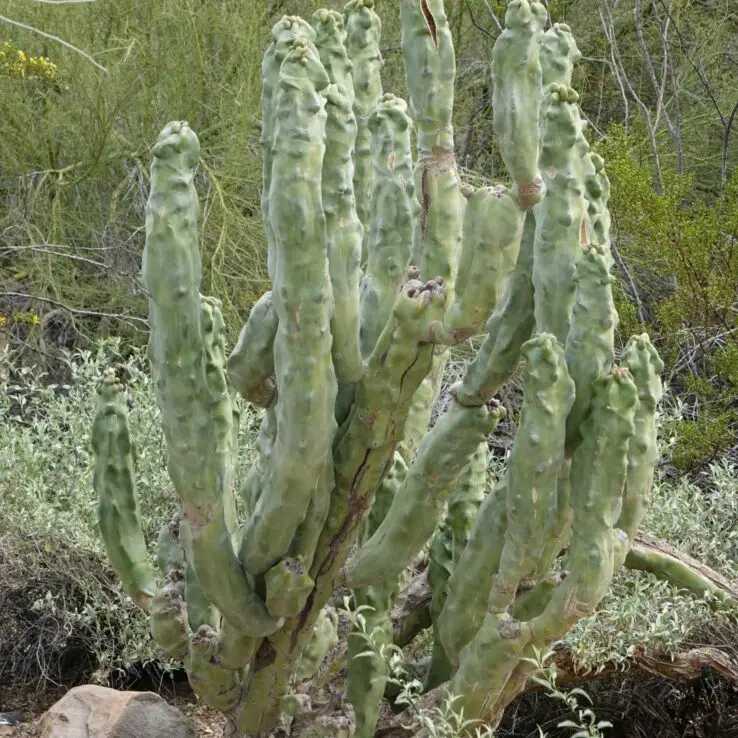 Totem pole cactus ( Pachycereus schottii f. Monstrosus ) is a smooth, shiny cactus without visible spines. This columnar cactus grows 3.6m (12ft) tall. It has small bumps to give the plant a sculptural appearance.
This cactus produces night flowers which are bright pink flowers that open at night and close around midnight. They produce red fruits which are egglike and edible. These plants take up little effort and almost always can grow even when ignored. Keep them under a shade but cover them against extremely cold temperatures in winter.
Senita cactus — Lophocereus Schottii
This plant has an unusual shape for a cactus with a smooth and silky surface. Lophocoreus schottii (Pachycereus schottii) is a 3 ft to 5 ft tall cactus. It has smooth silk brushed surfaces and looks appealing adding an attractive element to a collection.
Queen of the Night Cactus — Epiphyllum Oxypetalum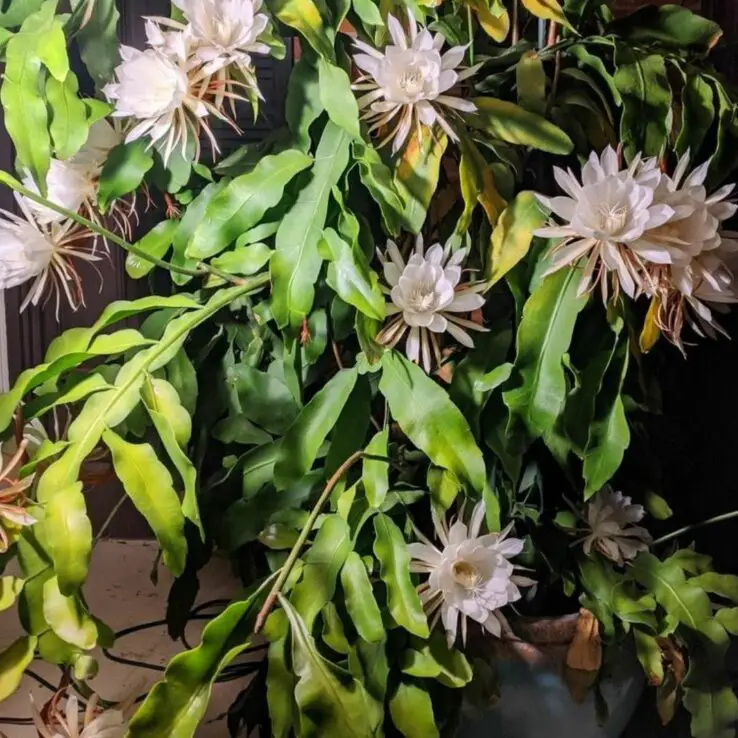 Epiphyllum oxypetalum ( Queen of the Night Cactus ) is native to South Central Mexico and other parts of South America. Its flowers blossoms at night but wilts by dawn.
Flowers are usually white with a nice scent and are typically 30 cm long by 17 cm wide. Give them morning sun but avoid the afternoon sun as the leaves can be easily scorched. It prefers slightly acidic soil.
Mexican Lime Cactus — Ferocactus Pilosus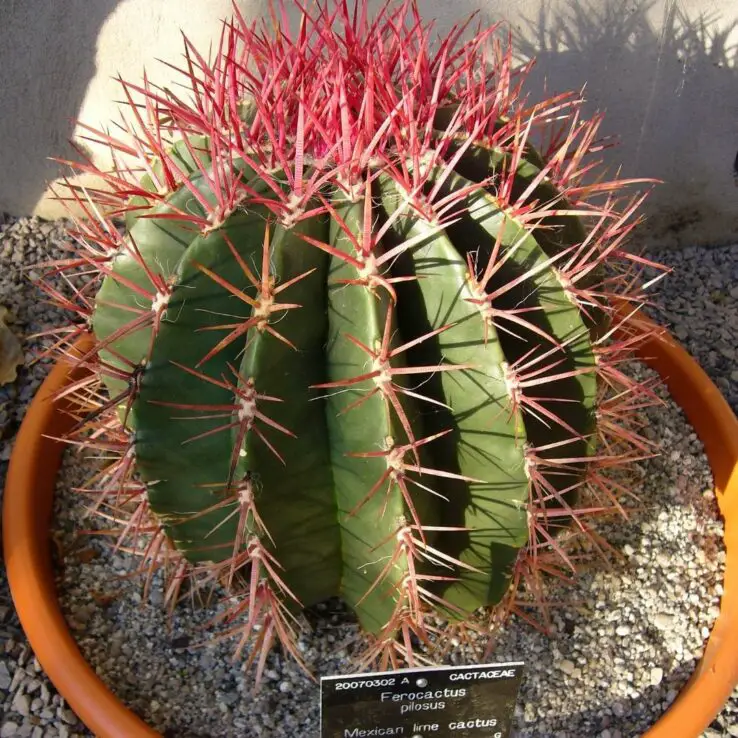 Ferocactus pilosus ( Mexican Lime Cactus ) is a slowly-growing variety with a single cylindrical stem with red spines around it. If the plant is kept indoors, it shows a reduced growth rate. This is one of the beautiful-looking cactus. It is very slow-growing.
The Mexican Fire Barrel Cactus is a thorny and spiny plant that grows up to 10.0 ft in height and 20.0 inches in diameter, depending on the conditions it enjoys. Place it near a window where it gets enough sunlight, as it prefers sunshine. Although afternoon shade helps maintain its green color and shape.
Christmas Cactus — Schlumbergera x Buckleyi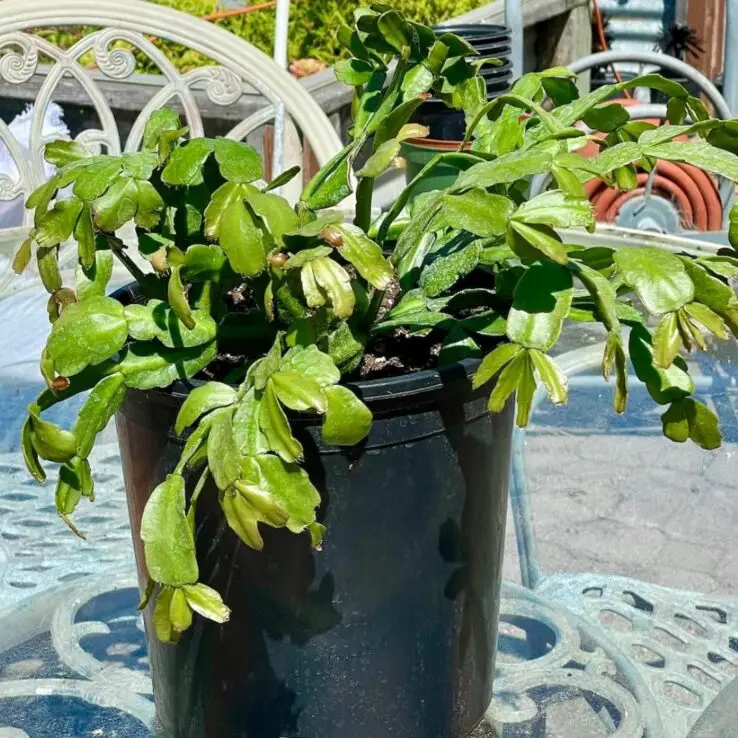 One of the excellent indoor cacti to have around the holidays is known as the True Christmas Cactus (Schlumbergera x Buckleyi). The Christmas cactus blooms often right around Christmas time, hence its festive name.
This type of cacti usually grows upwards at first before drooping downwards over the edges of the pot as they grow longer. Usually, this type does not produce spines. It has flat, stiff leaves that usually grow upwards and outwards.
Christmas cactus can bloom anytime between November and January, its pale pink to white flowers are in the form of bells, with petals curving inwards. The flower has a distinctive smell that's both sweet and tangy.
Easter Cactus — Hatiora Gaertneri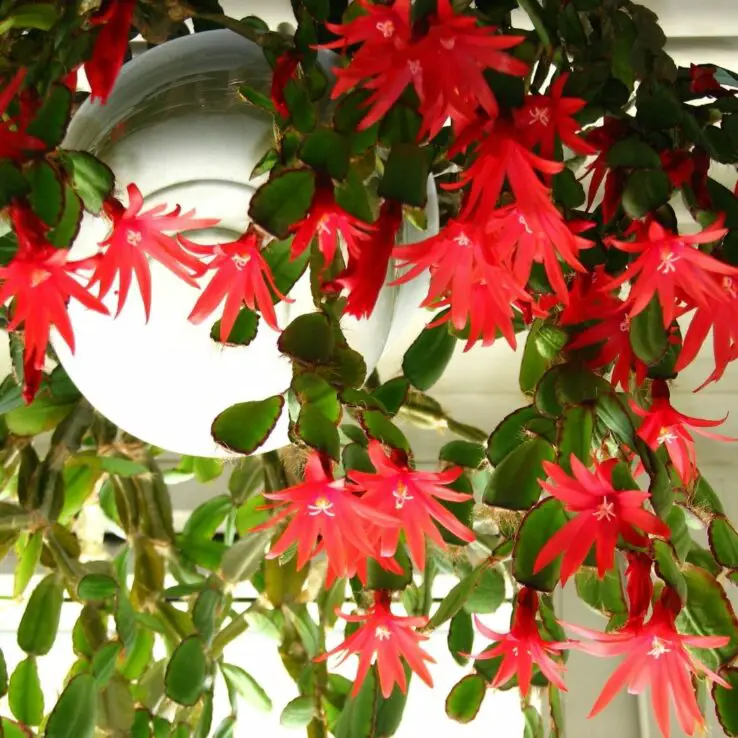 Whereas the Christmas cactus is often seen on front porches, the Easter cactus (Hatiora Gaertneri) prefers a more indoor environment. They grow along the ground and trail long stems similar to their cousin, though they are missing rows of spines at each node.
Unlike its cousin, the Easter cactus blooms with deep red flowers that open up into a funnel shape when they blossom in the winter to early spring.
Thanksgiving Cactus — Schlumbergera Truncata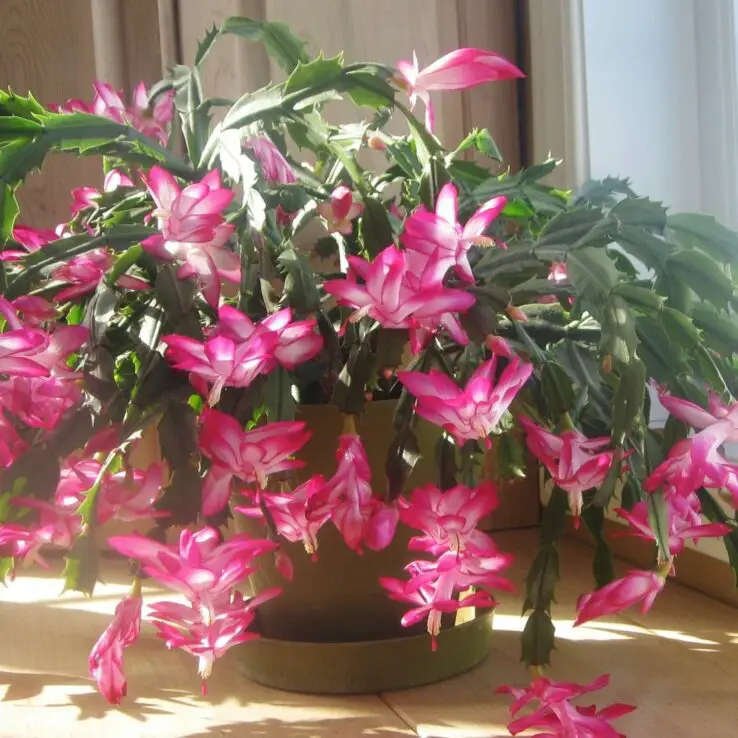 Often called the crab cactus the Thanksgiving cactus (Schlumbergera truncata) blooms around the holiday time. This indoor plant does well in a cooler climate. However, it must be in a region with no frosts.
It is continuing to grow throughout the winter, needs cooler temperatures to flourish. It has shiny green leaves and light purple flowers, resembling small red crab apples when fully bloomed.
Schlumbergera Truncata is sometimes considered a Christmas Cactus but it is actually a false Christmas cactus.
Chin Cactus — Gymnocalycium Baldianum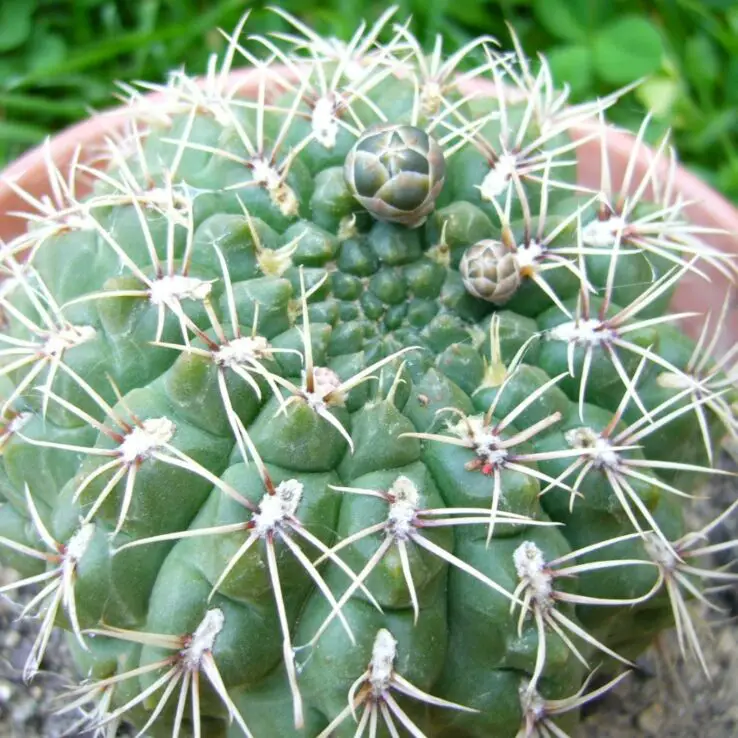 The Chin cactus (Gymnocalycium baldianum), also known as the spider-cactus or dwarf chin cactus, has a sphere shape and produces curved spines. It can grow up to 7 inches tall and 12 inches wide.
The usual height of these plants is 6 inches but can grow taller in southern regions. It is native to Argentina and grows large pink flowers followed by green fruit.
It cannot stand frost or dry soil. It is best to plant them in well-drained soil and keep it moist throughout the year. Keep the plants away from direct sunlight, as exposure to bright light will cause their spines to fade in color.
Star Cactus (Urchin or Sand Dollar Cactus) — Astrophytum Asteria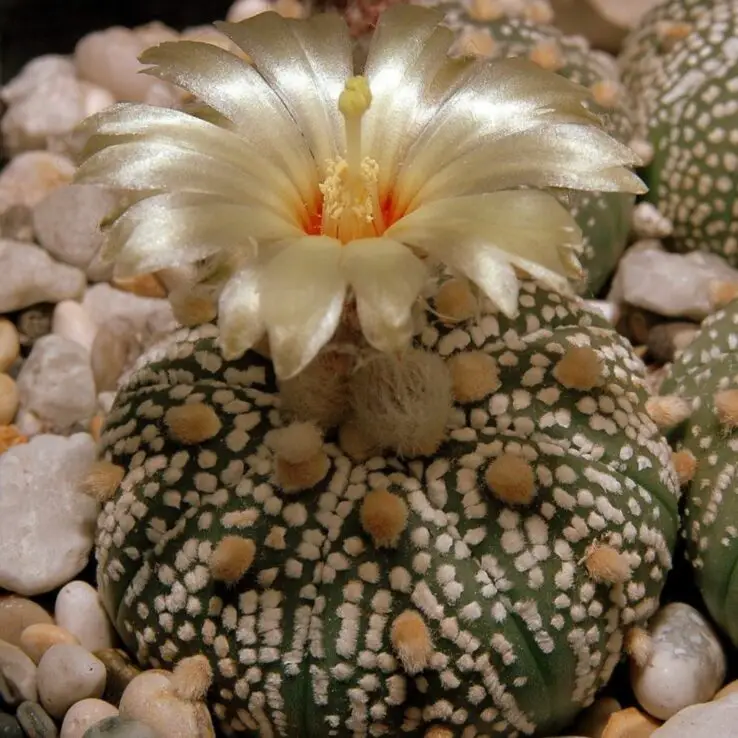 Native to Mexico and the southern United States, star cacti only grow to be about 2 inches high and 6 inches wide. Their small, round ribbed bodies are segmented into 7-10 ribs that feature furry areoles down the middle of each rib.
Large red or yellow flowers may bloom from these cacti in early spring; green or pink fruits may follow.
The Star Cactus (Astrophytum Asteria) is also known as sea urchin cactus or sand dollar cactus.
Saguaro Cactus — Carnegiea Gigantea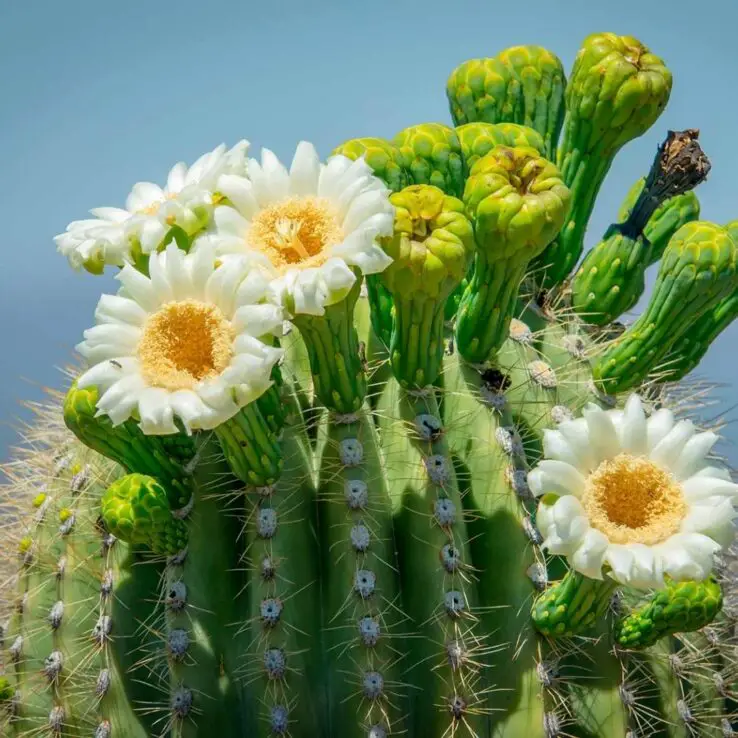 Besides other cacti, one of the best cactus for indoors is the saguaro cactus too. People usually think of it when imagining outdoor cactus with thick stems in the hot desert locales.
Saguaro cactus likes bright and warm conditions and will continue to grow slowly for years in just one pot. It is an extremely slow grower cactus. Often takes up to a decade or so for a couple of inches of growth. With care, it can also produce beautiful white flowers.
Conclusion
Depending on your choice and your indoor environment, you can choose many cacti to grow in your rooms. From the above list of the most popular indoor cacti plants, you have plenty of choices.
Growing any type of succulent indoors can be a little bit tricky. So we suggest you use a well-drained cacti mix, a proper watering schedule, fertilize regularly, and provide enough light to make them grow fast and healthy.
Do you have any other type of cacti that we missed here, or want to ask about anything else? please let us know in the comment below.